To us, MODI Cares represents more than just protecting the environment: it's about doing our part to save resources through efficient technology and regional connectivity.

As an owner-run hotel, we have the ability to act spontaneously on an individual level without being subject to corporate requirements and budget constraints. We view our employees and customers as people, not resources. We're aware of our responsibility towards people and live by this motto as a team. Do your bit for the environment each night you stay with us.
Eco-friendly building concept

Hotel MODI was planned and built based on a forward-looking design that's unique to Dachau and the surrounding area – for your comfort and a cleaner future.
The people at the heart of our work
Our employees are the key to our success. That's why we view our team as more than just a resource. We focus on the person behind the name tag.

Our owner-run set-up and flat hierarchies mean we're able to make decisions right away. All feedback we receive from our customers along with input and suggestions from our employees directly improve the way we work and, as a result, your stay with us.

In contrast to our competitors, every member of our team is a permanent employee. Reviews we've received on popular feedback portals highlight the success of this approach, particularly in terms of room cleaning.
Outstanding sustainability

Discover our wide variety of services
Hotel MODI offers guests a relaxing atmosphere in a modern setting. Discover our wide range of included and extra services for a truly unforgettable stay.
Our hotel is perfectly situated with great transport links, allowing guests to reach all the top sights in next to no time.
Looking to organise a conference? We've got you covered with state-of-the-art equipment, space and much more.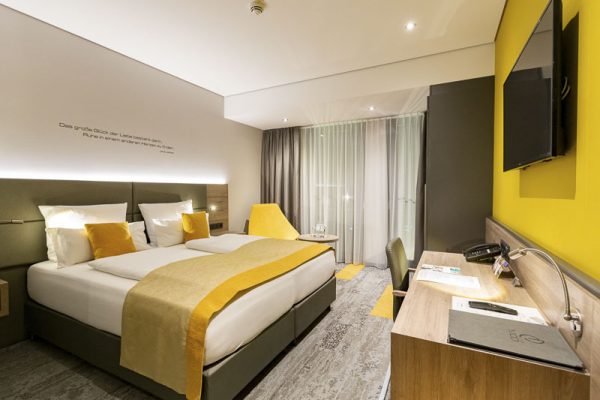 As a certified barrier-free hotel, we also offer rooms for travellers with disabilities.